Sports
A friendly football demonstration on the eve of the annual meetings of the World Bank and the International Monetary Fund
Heba Press
A friendly football event was held on Sunday at the Grand Stadium in Marrakesh, on the eve of the annual meetings of the World Bank and the International Monetary Fund, scheduled from October 9 to 15 in the Red City.
This football event, organized by the Royal Moroccan Football Federation, witnessed the holding of two friendly matches, each lasting 30 minutes, in the middle of the field, bringing together a group of former Moroccan players of both genders, and two mixed teams composed of employees of the World Bank and the International Monetary Fund.
This event was marked by the participation and presence, in particular, of the Director of the International Monetary Fund, Kristalina Georgieva, the President of the World Bank Group, Ajay Banga, the Governor of the Bank of Morocco, Abdellatif Jouahri, the Minister of Economy and Finance, Nadia Fattah, as well as the Minister Delegate in charge of the Budget, Faouzi Lakjaa ( President of the Royal Moroccan Football Federation – Chairman of the 2030 World Cup Committee), Minister of Youth, Culture and Communication, Mohamed Mehdi Bensaid, and national team coach, Walid Regragui.
This football demonstration took place in a lively and fun atmosphere, with most of the attendees wearing Moroccan national team shirts, and under the encouragement and cheers of more than two thousand female and male students from the Al Haouz region, who were transferred from the affected areas to shelter and continue their studies in a number of educational institutions in the Red City.
This distinguished sporting event reflects the ability of the city of Marrakesh and the affected children of Ahwaz to overcome the effects of the earthquake and regain the taste of life thanks to the high care of His Majesty King Mohammed VI and the determination of their guardians.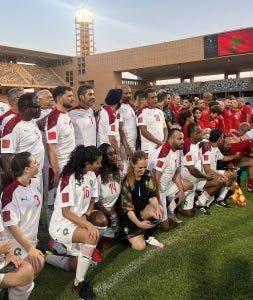 2